At one point along my journey through cloth diapering, I read something about moms using wool dryer balls in their laundry. From what other moms were saying, by adding balls of wool into your dryer, you can cut down on drying time and naturally soften your laundry. Hmmm.... it sounded like an odd concept but the more I looked into this, I managed to stumble upon more and more success stories and testimonials.
I actually attempted to make my own dryer balls out of 100% wool yarn but it took forever to roll the balls and get them tight but they didn't stay together and looked awful! I was still really interested in trying wool dryer balls though. So when I heard about Woolzies Dyer Balls and read all of the awesome feedback on their Facebook page from people who have tried them, I was super excited to try them myself!

The wonderful folks at Woolzies
sent us some of their wool dry balls to try!
So, to give you a little background on Woolzies, they were created by Soft By Nature, Inc. which is a small family owned company located in Southern New York. Their company mission is "to pass down this earth to our children in the same beautiful condition that we received it from our parents." Well said! Soft By Nature, Inc, intends to accomplish their mission by "developing all natural ecofriendly products and sharing them with our fellow citizens." Great goal! So, Soft By Nature, Inc. created Woolzies All Natural Dryer Balls. They come in a box set of 6 XL handmade pure 100% New Zealand wool dyer balls.
Woolzies Dryer Balls act as a natural fabric softener and help to cut down on drying time, saving you money on your energy bill and saving energy of course! Plus you'll save money by not having to purchase liquid fabric softeners or dryer sheets! Sounds like a win win situation to me! And they don't contain any yucky chemicals or additives that may irritate sensitive or delicate skin. Which is great considering I'm a mom with a baby who has sensitive skin. They also help to reduce static and wrinkles. I'm not a fan of ironing our clothes so anything that will help with wrinkles and saves me time earns itself a permanent place in our laundry routine!
But do they work?
My box of Woolzies Dryer Balls arrived just in time for laundry day! I've been super busy lately and had a tons of laundry building up. I did a load of whites, 2 loads of colors, a load of towels and a load of my baby's clothes and blankets.
I found that I was able to cut down on my drying time on all of my loads. We have an older dryer and cant afford to invest in a new one. These dryer balls are great because a load of towels sometimes takes us over 2 hours to get dry! So cutting down on that dry time is going to save us a lot of money in the long run. Not to mention the fact that we try to be as green as we can. We cant always line dry our clothes which is always our first route if the weather allows. We live in Iowa so we get a crazy mix of weather here. So when the dryer is the only option for the day, Ill be throwing in some Woolzies from now on!
Woolzies also guarantees their dryer balls for at least 1,000 loads! The boxes states that you may notice some pilling over time. After a full day of laundry, I didn't notice any visual difference or pilling. When I made my own dryer balls, they were covered in fuzz and pilling after just one load. Here is a before and after photo of my Woolzies Dryer Balls after several loads in the dryer!
My box of Woolzies Dryer Balls also came with a card featuring some FAQ's about Woolzies. It also has a few fun tips for using them. Did you know that by adding a few drops of your favorite essential oils to Woolzies Dryer Balls, toss them back into your dry laundry and fluff for another 10 minutes and it will leave your laundry smelling super fresh! Very cool! I'm definitely going to have to try that for my babies clothes and blankets!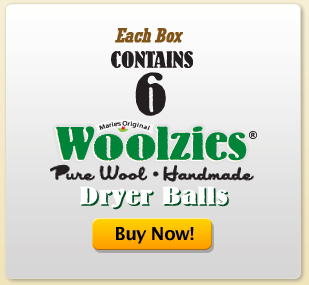 And now for the
The wonderful folks at Woolzies
a chance to win
Woolzies Dryer Balls
One box contains
6 XL 100% Pure Wool
Handmade Dryer Balls
Giveaway ends 8/11/2013. Open to U.S. only. Must be 18+ to enter. One winner will be randomly selected. Winner will have 48 hours after giveaway ends to respond to claim their prize! If the winner does not respond, a new winner will be randomly selected.
Enter using the Rafflecopter Form below
a Rafflecopter giveaway
Review Disclosure:
I was provided product by Woolzies at no charge to facilitate this review. I did not receive monetary compensation for this review. All opinions expressed in this review are my true and honest opinion. Cross my heart!
Giveaway Disclosure:
The Bee Hive Buzz did not receive any monetary compensation for hosting this giveaway. Prize is sponsored and provided by Woolzies. The Bee Hive Buzz is not responsible if sponsor does not fulfill prize obligations.