November is almost over and that means
Thankful For Cloth Month is coming to a close.
And in celebration of a whole month of cloth,
...AND there is also a chance for you to win one too!
Glow Bug Cloth Diapers are easy to use, super affordable and the prints are super cute!
Glow Bug sent us a cloth diaper to try and we love it. Its great because the fit is very trim and it isn't super bulky, which we love. And they have this great gusset system the helps hold in all of those icky baby messes! Its called the 360 Degree Gusset! The print that they sent us is great too. I think it looks like poinsettias so this will be our official Christmas diaper!
The sizing is super easy because the front of the diaper has a snap down rise to adjust the fit and the snaps are really heavy duty. It drives me crazy when cloth diapers have snaps that come undone super easy. Emma has gotten to that point where she can undo some hook and loop diapers and shes gotten a few snap diapers undone because the snaps are not super secure. But the Glow Bug snaps are tight and secure so theres no chance of Emma getting her diaper off on her own. Which is super good for momma not to have to chase naked baby around the house!
Glow Bug cloth diapers also have extra wing snaps to help prevent wing droop. I'm not a fan of wing droop so I'm a big fan of the extra snaps! They also come with a soft and absorbent microfiber insert.
Be sure to check out Glow Bug Cloth Diapers online! You can also LIKE Glow Bug Cloth Diapers on Facebook, follow them on Twitter and follow them on Pinterest!
And as I mentioned earlier, you have a chance
to win a Glow Bug Cloth Diaper!
is offering one lucky The Bee Hive Buzz Reader
a chance to win a Glow Bug Cloth Diaper!
Winner can choose girl, boy or gender neutral and Glow Bug will send you a surprise print!
I love surprises so I hope you do too!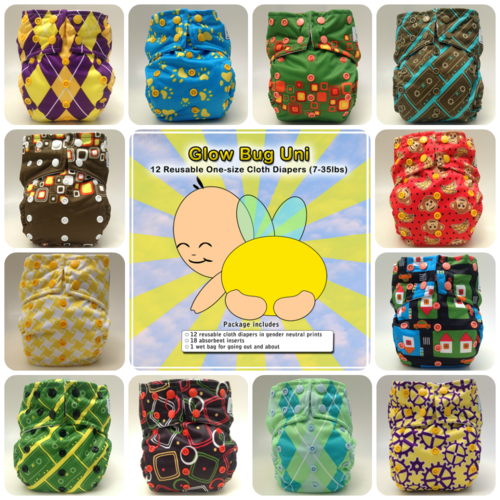 Giveaway ends 12/22/2013. Open to US and Canada. Must be 18+ to enter. One winner will be randomly selected. Winner will have 48 hours to claim their prize. If prize is not claimed, a new winner will be randomly selected.
Enter using the Rafflecopter form below!
Disclosure: I was provided a sample to facilitate this review. I was not compensated for this review or for hosting this giveaway. All opinions expressed are my true and honest opinions. Cross my heart!