If you haven't tried Buttons Cloth Diapers, then I must tell you, you are missing out! We recently discovered Buttons Cloth Diapers and were so fortunate that they sent us a cover , 1 daytime insert and 1 nighttime insert to try! They are one of our favorite covers!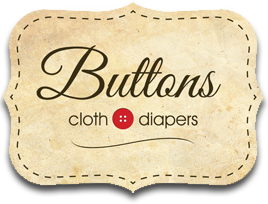 And our cover and inserts even arrived beautifully wrapped!
The really cool thing about Buttons covers is that the insert snaps right in so it stays put and doesn't move around or bunch up when your little wiggle monster is running around (or rolling around as Emma Bee does). The inserts are super soft and super absorbent. Emma Bee is a very heavy wetter and she can go quite a while in our Buttons diaper without needing to be changed. Normally she needs to be changed at least every hour. The nighttime cover was great! It was so absorbent! AND the cover material is so soft! Some PUL fabrics are stiff and not too soft but Buttons are sleek and smooth and soft and have a great fit!
Buttons covers feature a double gusset too! Just check out how great the gussets fit around Emma Bee's little legs! We haven't had a single leak or mess with our Buttons on Emma's bum!
And I love the Buttons logo! There is a cute little button embroidered on the back of the diaper.
And there are 2 layers of durable fabric so the diaper is super sturdy. Some covers only have 1 layer of PUL and that's it and sometimes it works great but some I've tried just seem like they are so fragile. So the double fabric is a super plus for us!
And Buttons diapers are reasonably priced and I have to say, the value is so worth it. A great, absorbent, comfortable and well fitting diaper cover for a good price. I definitely suggest you order some if you haven't already.
I cant wait for next March! Emma Bee's grandma and grandpa are taking us the whole family to Florida for a special Happy 1st Birthday party trip since Emma Bee will be turning 1 year old. I've been thinking about what I'll do for cloth diapers while were on vacation and figured my best option would be covers to make things easy. I will be taking my Buttons cover for sure and will have to invest in a few more for the trip. Not only are these great for every day and a great way to cloth diaper on a budget by using covers, but these would be great for traveling, making hotel cloth diaper washing and packing a breeze!
And there is something else you'll love......
Buttons Cloth Diapers is offering one lucky
The Bee Hive Buzz Reader
Winner can choose color and insert size!
Giveaway ends 11/16/2013. Open to US & Canada. Must be 18+ to enter. One winner will be randomly selected. Winner will have 48 hours to claim prize. If prize is not claimed, a new winner will be randomly selected.
Enter using the Raffelcopter form below!
Disclosure: I was provided product free of charge to facilitate this review. I was not compensated for this review or for hosting this giveaway. All opinions expressed are my true and honest opinions. Cross my heart!