We've been making a huge effort to get rid of as many disposable products as we can in our house. We use cloth diapers instead of disposables. We use cloth wipes. We use cloth towels instead of paper towels. And....one of my newly discovered favorite cloth products is mama cloth aka cloth menstrual pads! I will never ever go back to disposable products. Periods are enough of a pain and after to switching to cloth pads I realized how much of my discomfort was actually coming from the disposable products I was using!
One of my favorite brands of mama cloth is PeePods!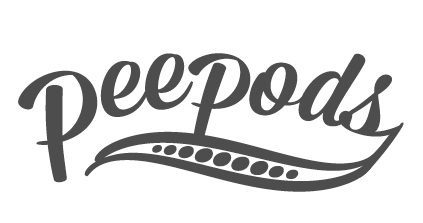 They are so comfortable and absorbent and so well made. The folks at PeePods sent me a set of 3 to try and they are great! They sent me the Cranberry color. I just love this color! They also offer the set of 3 in a dark Espresso. If you haven't switched or at least tried cloth pads, you really should consider trying them. You'll be glad you did!
PeePods are all one piece with attached wings that fold around your panties, snap in place and stay there the whole time you're wearing them. They don't slide around and don't bunch up. They layers of absorbent fabric in my opinion are much more absorbent than disposables with half the bulk. They seem very thin but work really well. I hate wearing disposable pads and feeling like I'm wearing a diaper. The soft flannel material is super comfortable against your skin with an absorbent layer of organic hemp fleece inside and a waterproof layer of PUL to keep your panties dry! All attached to coordinating cotton wings.
They are also very easy to clean. You can hand wash them or throw them in the washing machine. Since we use cloth diapers on our baby, I just throw them in with the diapers and line dry them. Since they are so well made, they hold up great after several uses and several washes. Even after several uses, mine still look brand new!
PeePods carries menstrual pads, panty liners, postpartum pads, incontinence pads and nursing pads.
The owner of Peepods is an amazing advocate for women's health. Every time a set of Peepods is purchased, she sends the same product to the women of the Hamlin Fistula Hospital in Ethiopia. You can also purchase a set to be sent to a woman at the hospital and Peepods will send a second set with your donation. This is a great company to support because of their support and generosity towards women in need!
So when you're considering your first set of cloth pads or just thinking about getting a new set for your collection, consider PeePods! They are great quality and worth a try and by purchasing a set, you'll be helping women at the Hamlin Fistula Hospital in Ethiopia!
Be sure to check out the My PeePods online store! You can also LIKE Peepods on Facebook and follow them on Twitter!
PeePods is offering one lucky
a chance to win a set of 3 PeePods Period Pads!
Giveaway ends 12/9/2013. Open to US only. Must be 18+ to enter. One winner will be randomly selected. Winner will have 48 hours to respond to claim their prize. If prize is not claimed, a new winner will be randomly selected.
Enter using the Rafflecopter form below!
Disclosure: I received product free of charge to facilitate this review. I was not compensated for this review or for hosting this giveaway. All opinions expressed are my true and honest opinions. Cross my heart!