By any chance, do you remember my review of Buttons Cloth Diapers that I published back in November? Well, in case you don't, I recommend you read it because we had the opportunity to try a Buttons Diaper Cover and inserts and loved them! They are by far the softest cloth cover we've ever tried and the inserts were great too!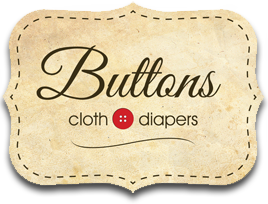 Well in addition to our favorite covers, Buttons Cloth Diapers is now carrying wetbags! They sent us one to try and its my favorite! I have another brand and its not nearly as nice as our Buttons wetbag.
We got the Large Wetbag in the Apple color. I love the polka dots! My favorite feature is the double pockets. There is a large main pocket with a zipper closure that is waterproof to keep wet and soiled diapers in. But on the outside, there is another pocket separate from the main one that also has a zipper closure. If were traveling or out and about for the day, I can use the front pocket to keep clean diapers and clean cloth wipes in and use the other pocket to store the soiled ones in until we get home. I love it!
We sent this bag along to Grandma's house while Emma Bee was staying there while I had my surgery and it was really handy for Grandma to use while Emma Bee was there! The wetbag also has a handy dandy snap strap so you can attach it to a stroller, hang it on a towel rack, a door knob or hook.
Did you know that Buttons Diapers also carries Flushable Diaper Liners too? They are made of a super soft bamboo. You simply place a liner in the diaper and toss it in the toilet when you change baby into a clean diaper. They flush so easily and are biodegradable so they'll break down!
These have been a life saver since my surgery. Normally I am 100% in charge of diaper laundry at our house. My husband has never washed a load of cloth diapers. We usually use fleece liners and wash them with our diapers. I like the fleece because it helps guard our diapers from poo stains and its easier in my opinion to get poo off of liners than the diapers. But I was really worried about how my husband would do washing poopy cloth diapers while I was recuperating. My mother ended up doing all of our diaper laundry but the liners were still nice because shes been doing a lot to help take care of me and Emma and help around the house so it was nice not having to burden her with having to scrub poop with my washboard. So we tried the flushable bamboo liners from Buttons and it made diaper laundry super easy! It made it easier for her to just throw everything in the wash.
The liners come in a roll of 100 perforated liners so they are easy to grab and go. They 11.5 x 6.5 and are just the right size to fit with Buttons diapers and other brands too. We've used them all day, every day since I came home from the hospital and they have worked with every brand of cloth diaper we have. They are unscented and biodegradable. Not only do they protect your diapers from poo stains but they help guard diapers from diaper rash creams as well!
So if you're looking for a new wetbag and some great liners, then I recommend checking out Buttons Cloth Diapers online for some great cloth diapers and accessories! You can also LIKE Buttons Cloth Diapers on Facebook and follow them on Twitter as well!
Buttons Cloth Diapers is offering one lucky The Bee Hive Buzz reader a chance to win a Buttons Cloth Diaper Package!
Prize Package Includes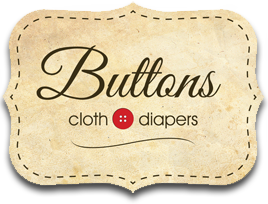 Disclosure:
I was provided with samples free of charge to facilitate this review. I was not compensated for this review and was not compensated for hosting the giveaway. This post may contain affiliate links. All opinions expressed are my true and honest opinions. Cross my heart!